We offer new electric scissor machines with E-DRIVE motor. What do they excel at?
Ecology is constantly gaining in importance. Because we are aware of this, we have added new electric scissor machines from the manufacturer Genie to our offer. Learn what specific models are and what they excel at.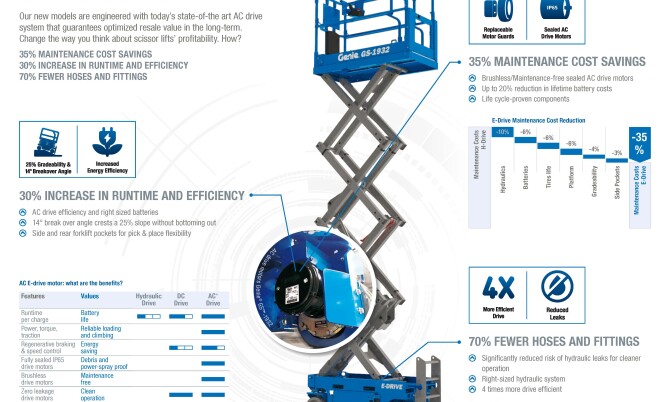 11 new electric scissor lifts
Scissor lifts are used in places that allow the machine to move vertically upwards. Electric scissor lifts are ideal for working on solid supports. A built-in charger is used to charge them, and when fully charged, the machine can be operated for about 8-10 hours. We have expanded our offer with Genie electric scissor lifts.
>> LEARN MORE ABOUT E-DRIVE (FLYER) <<
Specifically, these are the following models:
THESE LIFTS are equipped with an E-DRIVE motor
Latest Electric Genie scissor lifts are equipped with the most modern drive system into alternating current, which reaches four times the efficiency. At the same time, they excel in the quietness of their operation without the production of emissions, thanks to which they are environmentally friendly.
These platforms have been designed to simplify loading and unloading on construction sites and also stood in the local challenging environment.
Platforms have sealed maintenance-free AC drive motor and other quality components. As a result, they promise up to 20% lower battery costs throughout their life.