Training
Safe operation of aerial working platforms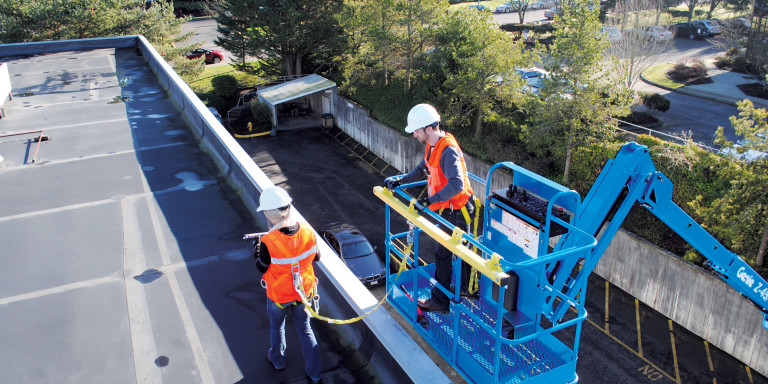 Visit our training centre
A special license is required to operate aerial platforms and we'd be happy to get you licensed. Our newly constructed aerial platform training centre in Dolní Beřkovice can handle class sizes of up to 40 individuals. Training is performed by two of our in-house certified inspection technicians with years of experience.
We train more than 1,200 people every year.
Get the right information from people with experience of practical and hands-on experience!
Training for HANDLING EQUIPMENT OPERATORS:
Re-training for basic aerial platform maintenance
Aerial platform operator training
Operator re-training, re-testing and certification
Training for work at heights, category 1 – for work using a restraining system
Training and inspection of PPE usage
GENIE service training
Where is training conducted?
Training sessions are available at our training centre in Dolní Beřkovice and at our individual branches. We are happy to provide training directly at a customer's location if agreed upon and space permits.
We are an IPAF member

Since February 2014, we've been a member of the International Powered Access Federation Limited, a powerful international organisation known globally under the acronym IPAF. The IPAF promotes the safe and effective use of lifting equipment around the world in the broadest sense possible, by providing information and technical advice, through influencing and interpreting legislation and standards.
It was established in 1983. The IPAF is a non-profit organisation of members representing the interests of manufacturers, distributors, users, renters and training organisations in the field of work platforms. The IPAF plays a key role in supporting many safe working initiatives that have received greater emphasis with the unification of EU legislation.
Joining the IPAF was undoubtedly a major step towards the complete professionalism of your work and our sophisticated approach to our customers.