Our cooperation with the Polish company AA Herkules: the delivery included 100 Genie machines
We have had another great collaboration, which we are very happy about. We have delivered a total of 100 Genie machines to the Polish company AA Herkules, significantly expanding their rental fleet of aerial working platforms.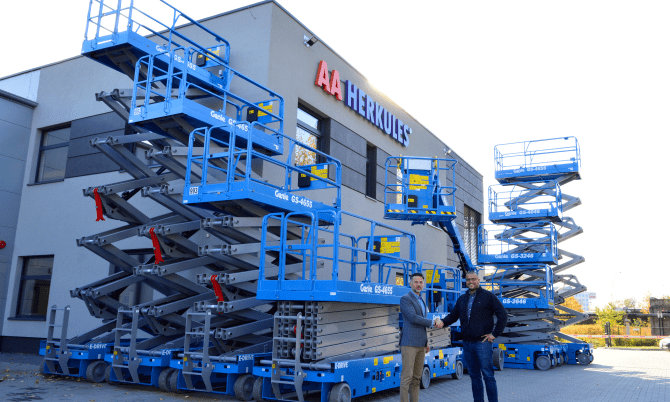 WHAT DOES AA HERKULES DO?
AA Herkules is a Polish company specialising in the rental of work platforms. A significant part of their fleet consists of Genie machines, which we provide to them on the basis of our long-term cooperation. The owner of AA Herkules, Bartosz Krala, says of his cooperation with Jacek Juszkiewicz (International Sales Manager): "We have been working closely with Jack for many years. He is very professional and all our cooperation takes place in a very pleasant and friendly atmosphere. STATECH has earned our trust, so when we decided to expand our fleet, we knew who to choose. We are confident that the new Genie models will meet the needs of our rental customers in Poland."
Jacek Juszkiewicz adds: "AA Herkules is one of our most reliable customers throughout Europe. It is always a pleasure to work with Bartosz. This year's order was a big challenge for us, which we were happy to take on and we very much appreciate the trust he has placed in us. We look forward to receiving feedback on the new models."
WHAT KIND OF WORK PLATFORMS DID WE SUPPLY THEM WITH?
Specifically, it was 100 different aerial work platforms. The company decided to expand the fleet with scissor lifts with the new Genie E-Drive system, which are electrically powered. They also have the advantage of quiet operation, superior working hours and compact dimensions. The scissor lifts included the GS-1330, GS-1932, GS-2032, GS-2632, GS-2646, GS-3246, GS-4046 and GS-4655. Another type of machines in the van were articulated boom lifts with different working heights. The highest model can reach up to 16m working height. 
ARE YOU ALSO INTERESTED IN COOPERATION?
We will be happy to discuss the delivery of aerial platforms with you. Simply contact us and our sales department will advise you on which type of machine is most suitable for you.