BAUMA FAIR 8.-14. APRIL 2019 - we will be there!
This year, after three years, we are again participating in the world's most important trade fair of construction machinery and equipment in Germany, which is a unique platform for presenting a wide range of innovations and trends in the fields of machinery, technology, innovation, vehicles and mining equipment.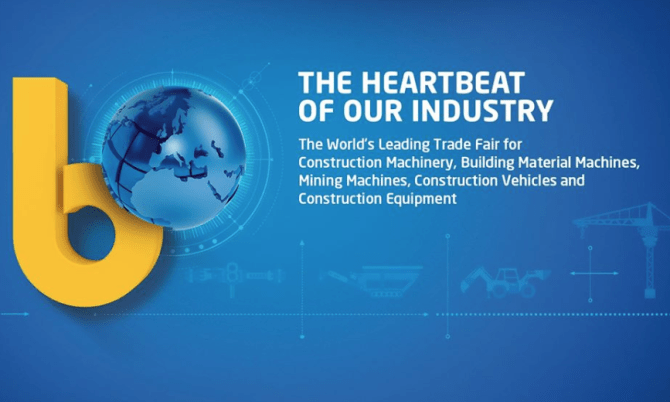 BAUMA FAIR 8.-14. APRIL 2019, Munich
This year, after three years, we are again participating in the world's most important trade fair of construction machinery and equipment in Germany, which is a unique platform for presenting a wide range of innovations and trends in the fields of machinery, technology, innovation, vehicles and mining equipment.
At this fair we can look forward to a lot of news from our main partner - Genie.
Will we meet you there too? More information for Bauma visitors: https://www.bauma.de/visitors/information/index.html
We look forward to you!
genie

bauma 2019 preview
NEW Genie S-45 XC Boom Lift
The modernized version of its predecessor, the new Genie S-45 XC boom offers a working height of 15.72 m (51 ft) and a horizontal reach of 11 m (36 ft 2 in). As applies to all Genie XC models, the newGenie S-45 XC boom lift combines a consistent dual lift capacity of 300 kg (660 lb) unrestricted and 454 kg (1,000 lb) restricted to provide twice more lift capacity than its predecessor, as well as saving time by significantly reducing the number of up and down trips to reload the platform. This new standard, that is now consistent across the full Genie XC range, provides the ability to perform a wider range of heavier lift tasks on construction and industrial jobsites with up to three people in the platform, while still leaving room for tools and jobsite materials.
NEW Genie S-65 TraX™ with Xtra Capacity Capabilities
At the same time as offering twice more lift capacity than its predecessor, this new generation trackmounted Genie boom lift retains its pioneering four-point track and patented active oscillating axle system to take on virtually any kind of tough or sensitive terrain.
NEW Genie GS™-1330m Electric Scissor Lift
Thanks to its power-efficient e-drive system that offers industry-leading runtime for full day productivity and cleaner operation, the new Genie GS™-1330m electric scissor lift offers rental and contractor customers the means of differentiating their business by adding more eco-responsible machines to their machine fleets. With environmental challenges in mind, this new "micro-sized" model responds to worldwide demand for "green," compact, low-level access adapted to space and weight-restricted applications. With a maximum platform height of 3.9 m (12 ft 8 in) and a maximum working height of 5.9 m (18 ft 8 in), the new Genie GS-1330m scissor lift offers 227 kg (500 lb) lift capacity to take two people on the platform, a machine weight of just 885 kg (1,950 lb) and incorporates the Genie Smart Link™ control system that simplifies troubleshooting with easy-to-read and user-friendly onboard machine adjustments and diagnostics.
NEW Genie "Hybrid" Boom Lift
Responding to today's increasing environmental challenges and stricter jobsite regulations, bauma 2019 will also mark the premiere of a new Genie fuel-electric (FE) hybrid boom lift that, like its higherlifting sister model features a "true" hybrid system. Offering all the unique benefits of the pioneering, Genie Z®-60/37 FE model, this new "2-In-1" Genie hybrid machine will combine the powerful 4WD all terrain abilities of traditional diesel-powered units, the emissions-free benefits of 100% electric solutions plus the ability to regenerate power to maintain the battery state of charge. With its two modes of operation that provide the ability to work, indoors and out all day or all night long using a single machine, this new model will also boast "intelligent" technology that saves energy and significantly prolongs battery life while reducing operating and maintenance costs for excellent rental returns of invested capital (rROIC). More details will be revealed closer to the show.
NEW Genie Lift Connect™ Telematics Solutions
Developed in direct response to rental customers' unique business needs, the new Genie® Lift Connect™ programme is a telematics offering focused on actionable information, flexibility and transparency. No matter what the size of an aerial equipment fleet — from 10 to 10,000 machines — equipment management is something that rental companies do every day. From knowing how equipment is performing or how often a piece is being utilized, to where each unit is or when it is ready for maintenance, machine data can provide a lot of insight to rental businesses.
New Genie Lift Guard™ Contact Alarm for Scissor Lifts
Following a pre-production preview in the UK in May 2018, the Genie Lift Guard™ Contact Alarm system for slab scissor lifts and vertical masts will be officially launched at bauma 2019. Designed to provide a secondary operator protection equivalent to that available on boom lifts in a package that meets the unique needs of scissor and vertical mast lift applications, the Genie Lift Guard Contact Alarm activates when an obstruction makes contact with any one of the whiskers mounted on the platform, alerting operators, occupants and ground personnel to a potential hazard.
Newly PPE-Certified - Genie Fall Arrest Bar
As part of its commitment to safety, Genie recently brought to market the bolt-on Genie Fall Arrest Bar accessory to provide operators more space to move around in safely when working on adjacent structures outside the platform. Today, since having successfully passed the dynamic fall arrest anchorage test in line with ISO 16368 as withstanding the force of a free-falling 136 kg (230 lb) test mass, the Genie Fall Arrest Bar is the first and only formally certified personal protective equipment (PPE) of its kind to meet current EU PPE regulations.
Genie Tech Pro Link Hand-held Diagnostics Device
With convenience, comfort and accessibility in mind, the Genie Tech Pro Link tool is a handheld diagnostics device that allows users access to real time data, calibration or fault code information and gauges and to make settings adjustments such as speed and so much more — all from the palm of the hand. Described by operators as being easier to use than other similar tools, this new device combines smart, simple features with an integrated flashlight and a magnetic attachment for easy hands-free operation.
More information about genie news can be found HERE.